Welcome to The Harmony Recording Awesomeness Content Page!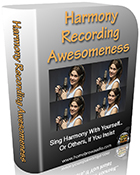 If you cannot see the videos below, it's probably because you either have not purchased them (only $37), or have not signed in.
If you have made a purchase, you can log in here: Log In
To Purchase, click the link below:
If, for some reason, you are signed in AND you have purchased the course and still cannot see the videos, please let us know here and we'll fix it ASAP.
Below are the videos for "Harmony Recording Awesomeness". This course will show you how to record yourself (or anyone else, for that matter:)) singing multiple-part harmony.
These videos are in streaming format so you can watch them on-line. If you'd like to download these videos to your computer, see the links at the bottom of this page.
Introduction to "Harmony Recording Awesomeness"

Transcript
Lesson 1 – Getting Started With Audio Recording Using The Free Audacity Software (2 parts)
Transcript
Lesson 1, Pt 2
Transcript
Lesson 2 – It's Recorded…Now What? – Editing Your Audio (2 parts)
Transcript
Lesson 2, Pt 2
Transcript
Lesson 3 – Adding More Tracks, Mixing Them, and Exporting The Final Audio File
Transcript
Lesson 4 – Multi-Track Recording: The Thing That Allows You To Record Harmonies
Transcript
Lesson 5 – Time To Sing Harmony With Yourself (or Others Too:))
Transcript
Lesson 6 – Upgrade To Professional Sound And Software (Reaper)
Transcript
Lesson 7 – Basic Recording And Mixing In Reaper
Transcript
Lesson 8 – Multitrack Recording In Reaper
Transcript
Lesson 9 – Recording Harmony In Reaper (3 Parts)
Transcript
Lesson 9, Pt 2
Transcript
Lesson 9, Pt 3
Transcript
Lesson 10, Pt 1 – Creating Harmonies With Software – 1st, "Son of The Sea" Without The Software
Transcript
Lesson 10, Pt 2 – Creating Harmonies With Software – ReaVoice – The Free Software In Reaper
Transcript
Lesson 10, Pt 3a – Creating Harmonies With Software – Antares Harmony Engine EVO
Transcript
Lesson 10, Pt 3b – Creating Harmonies With Software – Antares Harmony Engine EVO, Part 2
Transcript
Lesson 10, Pt 4 – Creating Harmonies With Software – ZPlane Vielklang Instant Harmony
Transcript
Lesson 11, Leaning Harmony Parts Using MIDI files

Transcript
You can  download the videos below (right-mouse-click and "Save Link As" or equivalent)
Introduction to "Harmony Recording Awesomeness"
Lesson 1 – Getting Started With Audio Recording Using The Free Audacity Software (2 parts)
Lesson 1, Pt 2
Lesson 2 – It's Recorded…Now What? – Editing Your Audio (2 parts)
Lesson 2, Pt 2
Lesson 3 – Adding More Tracks, Mixing Them, and Exporting The Final Audio File
Lesson 4 – Multi-Track Recording: The Thing That Allows You To Record Harmonies
Lesson 5 – Time To Sing Harmony With Yourself (or Others Too:))
Lesson 6 – Upgrade To Professional Sound And Software (Reaper)
Lesson 7 – Basic Recording And Mixing In Reaper
Lesson 8 – Multitrack Recording In Reaper
Lesson 9 – Recording Harmony In Reaper (3 Parts)
Lesson 9, Pt 2
Lesson 9, Pt 3
Lesson 10, Pt 1 – Creating Harmonies With Software – 1st, "Son of The Sea" Without The Software
Lesson 10, Pt 2 – Creating Harmonies With Software – ReaVoice – The Free Software In Reaper
Lesson 10, Pt 3a – Creating Harmonies With Software – Antares Harmony Engine EVO
Lesson 10, Pt 3b – Creating Harmonies With Software – Antares Harmony Engine EVO, Part 2
Lesson 10, Pt 4 – Creating Harmonies With Software – ZPlane Vielklang Instant Harmony
Lesson 11 – Learning Harmony Parts Using MIDI Files