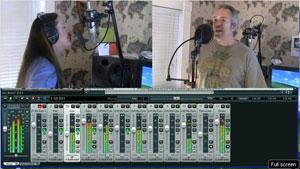 Your Home Recording Studio Headquarters.  Home Brew Audio is your headquarters for learning how to record and produce professional audio on your home computer without having to pay lots of money or attend a recording school. The truth is that in this day and age it's cheaper and easier than you probably ever imagined.
Find out all you need to know about recording music (like your own demos, CDs) or voice overs (audio books, podcasts, video narration, etc.) or any other kind of audio you can think of, right here in the pages and posts of Home Brew Audio.
We have hundreds (over 190 at last count) of articles available for you to peruse for free.  Look over in the side-bar and either search for a key word (top, right of the screen) or use the drop-down menu for post categories half-way down the side-bar.
In addition, we have video tutorial lessons available. The Newbies Guide to Audio Recording Awesomeness video tutorial course ($36), which starts you at a budget of $0 (yep, that's ZERO dollars) for recording gear. When you're done with that, move on to The Newbies Guide to Audio Recording Awesomeness 2: Pro Recording With Reaper for $47. Or buy them both together for $67 here.
Purchasing or not, go ahead and put your e-mail address in the box near the top of the side-bar on the right and get the first several video tutorials free of charge.  Plus you'll get all the latest information we think will be valuable to you in your recording efforts (no spam, in other words:)).
See you around campus!
Cheers,
Ken Theriot