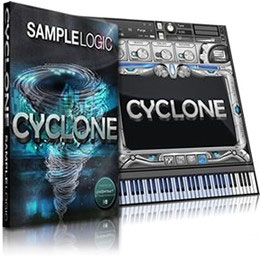 Sample Logic, makers of excellent virtual instruments and synthesizers such as The Elements Exp Virtual Instrument Library Software
and a lot more besides, has announced the release of their latest synth called Cyclone.
From the description on their website, it will use Native Instruments Kontakt (Cyclone will come with Kontakt player with 64-bit support) and be a combo instrument in that it plays sampled instruments (325 different types) as well as having the capability to act as a synthesizer, meaning you can alter the sounds with Sample Logic's sequencer, arpeggiator and LFO (low-frequency oscillator), as well as the new Kontakt additive synthesis engine called "Wave."
The kinds of instruments and sounds described, namely single instruments and multis giving you motion pads, cinematic instruments, dub-step type basses, electronic leads and much more. It sounded a lot to me like Omnisphere, by Spectrasonics. But Cyclone will be a bit a bit less expensive than Omnisphere's $479, coming in at just under $300.
It's scheduled to be released on April 22nd, 2013. So be ready if you've been looking for a great all-around virtual synth.