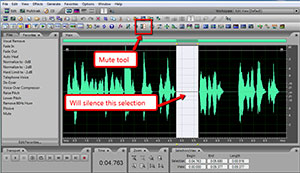 Recently, over at the Audio Daily Blog, the voice-over audio production blog at Voices.com, there was a post with suggestions about how to remove breaths from voice recordings. I figured I'd add my primary method for doing this to their list of 6 tips.
I typically record all my audio into Reaper, an outstanding multi-track recording program that rivals Pro Tools for a fraction of the cost. With music, and with move complex voice-over projects, I'll do all my mixing in Reaper. For voice-over jobs that require multiple parts – say a conversation between two or more people or a series of phrases that need exactly 3 seconds between them (I have done a lot of both types of jobs), Reaper is the tool I use to get everything in the right order and sounding good.
But after I create a single file by mixing it all down in Reaper ("rendering"), I open that single file in a different program – an audio editor – to do the final polish. Some folks consider this overkill, since so much can be done from within Reaper. But coming from a music recording background, I'm used to mastering my mixed-down/rendered audio. And to do that I use a separate audio recording software type called and audio editor. In my case, I use Adobe Audition. But there are much more affordable editors out there.
So once I open the rendered, "almost-finished" audio in my editor, I put the headphones on so I can hear every little breath, click, pop, etc. My primary tool within Adobe Audition for this is called the "Mute" tool (which is also available in the free audio editor called Audacity, BTW, called the "Silence" tool). This tool removes all audio in a selected area, which is different from "deleting it!" If you delete the audio, you also delete that section of time. Silencing leaves the time alone, simply making it audio-free time.go through the audio, selecting breaths, and then silencing them with that silence tool.
Anyway, I actually /mute silence all the sections between phrases to get rid of extraneous little noises that become audible when there is no vocal, including lots of the breaths. It works really well, and its fast.
Heed this warning though. A lot of breaths are just part of the way we speak, especially the breaths before a phrase (both my wife and I tend to put a little exhale or quick intake of breath sound at the end of our phrases. Most of these get silenced out. But many of the breaths that come before a phrase get left in, since people are used to hearing people breathe before they talk.
One more warning – if you silence most of the space between phrases, the start of a pre-phrase breath may be cut off. THAT will make the breath sound unnatural. You can fix that problem either by making sure the section you select for silencing does not include the start of the breath. Or you can use the "fade-in" tool if the start of a breath gets cut off. Creating a fade-in makes it sound natural again.
I hope this helps you get much better-sounding voice recordings!
By the way, the Audio Daily Blog post I referred to at the beginning of this article is here: http://blogs.voices.com/audiodaily/2013/05/6_tips_for_removing_breaths.html