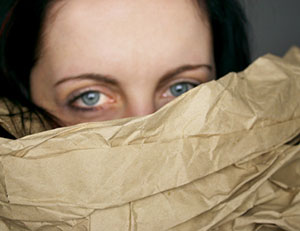 When a vocal recording sounds like the singer has a box over his/her head, that's usually because there is too much low end – typically frequencies at and below 25 Hz. That sound is usually called "muddy" or "muffled." See yesterday's post for a review of frequencies: Some Good Equalization and Frequency Basics.
This can be caused by a number of different things, such as not using the correct mic for the singer (yes, some mics that sound awesome on one person may not sound good on someone else), or just using the wrong kind of mic (like recording with a Shure SM58, which is great for live stuff but not so great on recording – but see the point above about certain mics sounding great for some folks!), recording in a location with poor acoustics (some folks record in closets trying to make vocal booths, but end up making the sound worse rather than better), or just having the wrong effects on the recording, like adding a tube-effect or something else that alters the tone. Sometimes it might even be that you accidentally recorded a copy of the voice, and they might be out-of-phase  with one another. I've done that;). See Monday's article for a primer on phase – What Does Phase Mean In Audio Recording?
Usually though, you can fix the problem in one of 3 ways.
1. Have the singer record again, this time with no effect on the voice, in an open area with the correct mic (typically a large-diaphragm condenser – like an Audio-Technica AT2035 –  is best for vocals).
2. If singing the part again is not an option, check to make sure that there are no copies of the vocal in the software. If there are, delte them. Then listen to the vocal with no effects at all – no compression, no EQ, no reverb. That may fix the problem.
3. If steps 1 or 2 did not solve the problem, you can almost always at least make a muddy vocal sound better using an equalizer effect (EQ). Again, yesterday's article on EQ and frequencies (mentioned above) explains what an EQ is and how it works. You want to start by lowering the energy in the area below 250 Hz. Experiment with that and see if that doesn't solve it. You might also want to increase some of the high frequencies, those in the 1-3 KHz area and possibly the 9-10 KHz area. But be careful adding (turning up the volume) energy anywhere on the EQ to fix a problem. Reducing is regarded as being much more effective and usually does the trick.
Below is an article by Bjorgvin Benediktsson  about fixing a muddy vocal, complete with an EQ illustration. Check that out here: http://www.audio-issues.com/home-recording-studio/question-the-answer-how-to-eliminate-muddiness-and-boomy-low-end-from-vocals