Sound Amazing On Your Podcasts, Voiceovers & Videos
Free videos from the course: "Professional Talkers: How To Record High Quality Audio For Podcasts, VoiceOvers & More"
Lessons from the course to get you started sounding great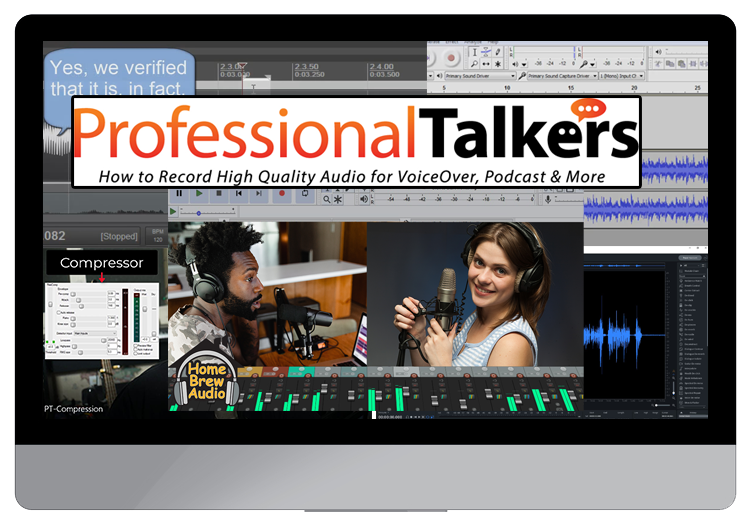 Get started right away with super affordable gear
I walk you through what to buy & what to do - using clear, simple "non-techie" language so anyone can understand

Lots of people believe it takes big-budget, high-end microphones and other gear to produce audio that sounds professional. Nope. In fact people make bad-sounding audio with super expensive mics every day. You can make great recordings with just your computer, an affordable mic, and free software.
Once you have the basic mic and software, you'll need to know what to do with it. Sure, you CAN find tutorials all over the internet. But a vast majority of those are hard to understand or just taught poorly - too much overly-complex audio jargon, among other problems. I show you step by step what to do, in a way anyone can understand it.
Do the phrases "how to record a podcast" or "how to edit a podcast" stress you out?
It's sad when I hear someone tell me they'd love to start a podcast, or get into voiceover or narrating audiobooks, but the mere thought of having to learn everything about recording or editing the audio stops them cold. They give up on that dream - never even trying.

The good news is that there isn't anything to be afraid of! You don't have to become an audio engineer, or a "techie" of any kind
Audio recording stuff can be super complicated. But it doesn't HAVE to be. Not if you have the right teacher.
These free videos show you:
What actually IS pro-sounding audio? Comparison samples from pro vs amateur-sounding audio
What mic to use for 2 different budget levels
How to hook them up to your computer
How to make a recording in audio software
How to do some very simple editing
Ready to check it out for free?
Get access to the videos now