Audio Recording For Non-Techies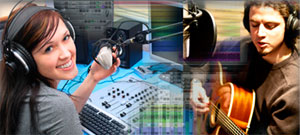 Listen to these samples to hear what is possible on an easy-to-setup, inexpensive computer-based home studio!

All that was recorded with just a microphone, an interface, a regular computer and some software.
Whether you're a musician wanting to make your own CDs, or just want pro audio for podcasts, videos or Skype chats, you can turn your computer into a recording studio in the next 30 minutes. To get started, just put your e-mail into the form over there on the top of the sidebar on the right.

See If You Can Tell The Difference!
Listen to the following two audio samples. One came from a well-meaning colleague who used a $500 microphone. The other was recorded with a $5.00 plastic pc microphone. Which is which?

Neither one is "yippedy-doo-dah" fabulous, and one of them is downright bad. Even if you couldn't tell the difference, what does that tell you? One of these was recorded with a mic that was 100 times more expensive! If you're curious about which was which, the first one (about GPS drawing) was the one recorded on the $500 mic. The second one was recorded with a $5.00 plastic pc mic.
What's So Great About Home Brew Audio?
Great sound quality is MUCH MORE about understanding a few key principles of audio, and MUCH LESS about the cost of the equipment than most people think. And here's better news: The few key principles are easy to learn...IF you have the right teacher. That's where we come in.
You'll learn all you need to know with our video tutorials, articles, and tons of other resources on the site. There are a lot of people out there who thought home recording was the realm of tech geeks and audio engineers with lots of school and tons of expensive gear. It turns out....it's not!
In this day of ubiquitous (cool word huh?) computers and widely-available digital tech and amazingly affordable home recording software, just about anyone who has a computer and an internet connection (or not!) can produce professional quality audio with tools you already have! You may have to shell out $5.00 for a microphone if you don't already have one, but that is all you need to get started.
Our motto at Home Brew Audio is "Knowledge Trumps Gear." And we are here to provide that knowledge. We are not about using any specific programs, effects, microphones, etc. Our goal is to teach the basics that will apply to audio regardless of what gear you use! Fun, fun, fun!
Take a look around the site to find blog posts, videos, and other resources all geared toward helping you record and produce great audio from home.  Click Here to check out our 300+ posts and articles are here
Want to get started right now?
Get instant access to the 1st few lessons of The Newbies Guide To Audio Recording Awesomeness 1 video tutorial course, which will teach you the basics of audio recording with free software using just your computer sound card and a PC mic. Then when you're ready, check out the step-by-step video tutorials.
- First module: Free – Just send us your e-mail address in the form above.
- The Newbies Guide To Audio Recording Awesomeness 1: The Free Home Recording Studio - $37
- The Newbies Guide To Audio Recording Awesomeness 2: Pro Recording With Reaper Software - $47
- The Newbies Guide To Audio Recording Awesomeness 1 and 2 - $67
- How To Build A Home Recording Studio (video/eBook combo) - $12.99
Cheers!