RØDE Rec Audio Recording App For iPhone And iPod Touch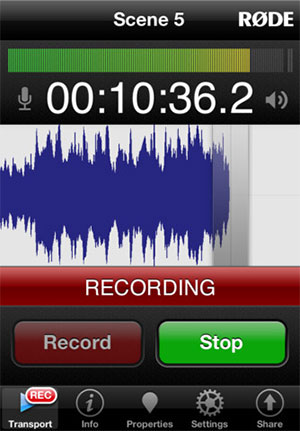 RØDE, the company that makes excellent microphones (my everyday go-to mic is the large diaphragm condenser called the RØDE NT2-A), has just come out with an audio recording app for iPhone and iPod Touch. And they've done it together with another big name in audio recording, iZotope, maker of fabulous mastering (Ozone) and other audio effects and tools.
You can record direct into the device with the built-in mic, or you can use something like the iRig Mic ( see our review of the iRig Mic here - Review of IK Multimedia's iRig Microphone For iPhone, iPad, and iPod Touch) or other iOS compatible mic or mic/interface connection. Then you can use the built-in processing presets, such as Dictation, Interview, Lecture, Office Mode, Live Concert Outdoors, Outside Noise reducer, Rumble Reducer, or Hiss Reducer. You can also apply compression and EQ. When you're done, you can share your audio in a bunch of different ways, including SoundCloud, Dropbox, iTunes & Browser Sharing, eMail or FTP. You can also save the audio as anyone of a number of formats, such as AAC, Podcast, Apple Lossless, FLAC and Ogg Vorbis.
This is pretty darned awesome even without an external microphone. And with the right microphone connector, such as the Tascam IM2 Stereo Microphone for Apple iOS products, or the soon-to-be available RODE iXY Stereo Microphone for iPhone/iPad (see picture on the right) you can turn your phone into the only field recorder you'll ever need. Use it for interviews, gathering sound effects, dictation, recording lectures, etc.
It costs $6.99 at the Apple App Store, a pretty amazing value.