The Home Recording Musicians Starter Bundle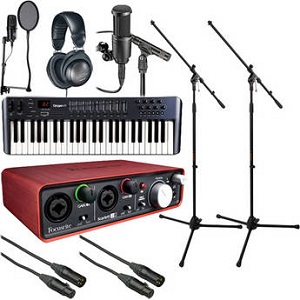 [UPDATE 2022 - B&H have stopped doing this (and other) bundles, sadly. So this particular one is not available any longer. This is very close and is available in 2022 - Focusrite Scarlett Solo Home Studio Recording Kit.
For the musician's version, I changed the interface to a Scarlett 2i2, which has 2 mic inputs, and I had also included a MIDI keyboard. The currently available bundle for that would be the Focusrite Scarlett 2i2 Home Studio Recording Kit, and you can add the Novation Launchkey Mini MK3 25-Key USB MIDI Keyboard Controller.
[Below was the original post, much of which is sort of out of date now in 2022.]
Recently I announced the creation of the Home Recording Starter Kit, which was a bundle of essential recording equipment put together in coordination with B&H Photo-Video-Audio.  It is composed of the minimum gear needed at the lowest price to allow anyone to start recording professional audio on their computer. That first bundle - priced at $261.95 - is good for anyone, but especially suited to those doing mostly voice over recording, including video narration, podcasts, etc.
Now I want to tell you about another starter bundle aimed at musicians, also assembled by B&H to my specifications.
These bundles are great because they save you lots of time and money. For instance, the items in the new musicians bundle, if purchased individually, would cost a total of $529.79. And then there is the shipping. But the kit only costs $429.99, you save about a hundred bucks for the gear, and B&H offers free shipping (in the US). How cool is that?
So here is that second bundle, which is more geared (no pun intended) toward musicians - The Focusrite Home Recording Musicians Starter Kit. The primary differences are the addition of an extra microphone for recording acoustic guitar and other instruments, and a MIDI keyboard for playing virtual instruments. Of course there are two mic cables and stands, and the interface accepts two microphones simultaneously. Below are the details: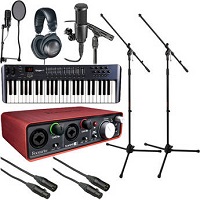 The Home Recording Musician's Starter Bundle ($449.95)
Focusrite Scarlett 2i2 USB Audio Interface
Audio-Technica AT2041SP Cardioid Condenser Studio Microphone Package (includes 2 studio condenser mics: the AT2020 for vocals and the AT2021 small-diaphragm condenser for instruments)
2 xKopul Studio Elite 4000 Series 3-Pin XLR Male to 3-Pin XLR Female Audio Cable (10')
2 x Auray Tripod-Boom Mic Stand
Audio-Technica ATH-M20 - Closed-Back Headphone
Auray Nylon Round Pop Filter with Gooseneck (6.6")
M-Audio Oxygen 49 -USB MIDI Controller