Moog Synthesizer Google Doodle A Multi-Track Recorder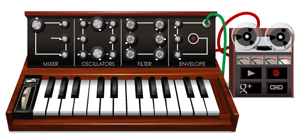 If you've seen Google today (May 23rd, 2012) you'll have noticed that it is a keyboard with wires and some buttons.  What you may not know is that this is a doodle of a Moog synthesizer, which was one of the first electronic musical instruments.  Robert Moog is widely considered to be the inventor of the synthesizer, which is the foundation for the virtual instruments of today.  You can read about Moog (pronounced like the magazine "Vogue") at the link from Google's doodle here.
You can play Google's doodle version of the synthesizer with your computer keyboard not only by clicking on the piano-type keys on the screen, but also by adjusting a whole slew of synthesizer parameters.  Just lick and drag on any of the knobs and you can change the sounds, volumes, mix, etc.  So that's really cool right there.
But how does this doodle relate to audio recording?  Because it is a 4-track multi-track recorder, that's why!  ON the right of the synth (the thing with the keyboard and buttons) is an old-fashioned reel-to-reel tape recorder with 4 needle-type meters (one for each track). Just click on the 1st needle meter, click the red "record" button, and play you some notes on the synthesizer.  Then hit "stop."  Then hit the "play" button and listen to your recording.  Now click on the 2nd needle meter (arming it for recording), and record a 2nd part as you listen to the first thing you just recorded.  When you listen to the playback this time you'll hear BOTH of the parts you just recorded playing together.  Change some of the sounds with the knobs and repeat the process for tracks 3 and 4, and voila!  You've created a 4-track recording.  You "over-dubbed" the 2nd, 3rd and 4th tracks.
This is a pretty incredible doodle, not only showing you some music and recording history, but also teaching you some core recording concepts such as multi-track recording and over-dubbing.  And of course there is just the fact that it's just plain fun to play with.  I suspect lot of people will be spending a huge amount of time on a Google search page doing little search and lots of playing today.
Go check it out if you haven't seen it yet: https://www.google.com/