New IK Multimedia iOS Microphone: iRig MIC Cast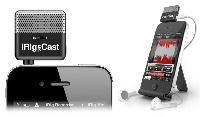 IK Multimedia have recently created such cutting-edge audio products as the iRig MIC (here's my review on that), the iRig PRE, iRig MIDI (I also made a review about it), AmpliTube iRig (you could read our review here), and iRig MIX (DJ mixer for iOS).
They now have iRig MIC Cast, which is an "ultra-compact" (their word) microphone for the iPhone, iPad and iPod Touch.  The MIC Cast is a stereo microphone that plugs into the mini-jack of an iOS device.
Its stated purpose is to record interviews, lectures, voice notes, speeches, video calls, podcasting, etc.  It is also very handy for using FaceTime on the iPhone or for Skype meetings so you can set the device down in front of you (using the included table top stand) and see the screen while you talk.
So it is more like a very quick way to turn your iPhone into a mini recorder whose main goal is to capture the information and not really for broadcast as a pro audio product later.  But still, that is something that a lot of people need.  If you already carry an iPhone with you anyway, and you need to record a conversation, it's a lot easier to reach into your pocket and plug the ultra-compact MIC Cast into your phone than it is to carry around a little mini voice recorder.
As I mentioned earlier, it comes with a table-top stand.  To record the audio, just download one of the free IK Multimedia apps such as VocaLive and iRig Recorder.
The iRig MIC Cast costs $39.99/€29.99  and is available from electronic and music retailers around the world.
For more information on iRig MIC Cas visit:  www.irigmiccast.com
Pricing and availability:

iRig MIC Cast costs $39.99/€29.99 (excluding taxes) and is available from electronic and music retailers around the world.

For more information on iRig MIC Cast:

www.irigmiccast.com