T-Pain Vocal Recording Software
No doubt you have heard the use of tuning software (usually Auto-Tune) used not as a tool for correcting the pitch of a singer's recording, but as an effect in and of itself to make a voice sound unnatural and "computery." There is a hip-hop artist out there whose name is pretty much synonymous with this kind of thing, and he is known as T-Pain. Though it has become so common (yes, another rapper :-P) that you can hear this effect on possibly more recordings than not in popular music these days.
Well this post is more than a few years old. At the time, you could get a plugin that was designed to give you that T-Pain effect. It is pictured below. But really, you don't need a dedicated "T-Pain" plugin when you can use what he (and so many other artists) used in the first place. And that is Auto-Tune, from Antares Tech.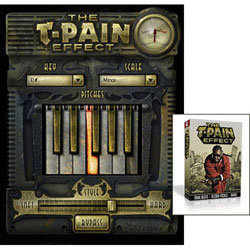 The above effect came with a virtual drum machine as well. And Auto-Tune does not. But again, it's probably best to have a plugin dedicated to virtual drums. XLN Addictive Drums is just one of many choices.
There are 3 music-making tools designed for beginners (you don't need to know much, if anything, about audio recording) that allow you to arrange beats, record your voice, and in just a matter of minutes, post your tracks on-line.