Microphone That Fun's Nate Ruess Used On Saturday Night Live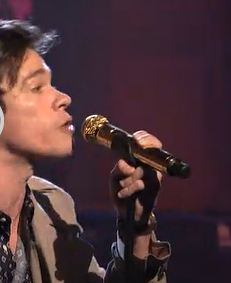 The band Fun appeared on Saturday Night Live on Nov 3rd, 2012, performing their songs, Some Nights and Carry On. Fun's lead singer, Nate Ruess, was using a stylish gold-plated wireless microphone that was different form the Shure SM58 mics the rest of the band were using.
It turns out that Nate's mic was also a Shure - it was a Shure UR24D/SM58 microphone.
I'm not certain where you can get a gold-plated one like Nate's, but I'm guessing that if you can afford the Shure UR24D at about $2,300 ($4,659 for a pair), it would be nothing to pay extra for a gold-plated one.
If you are in the market for a high-end wireless hand-held microphone, you can get a pair of Shure UR24Ds like Nate's by clicking here, though you'll have to settle for the standard black color, unless you have a friend at Shure who can get it plated in gold for you;).
And if you don't quite have that in your budget, you can be like the rest of the band and pick up a Shure SM58 for a small fraction of the price of Nate's gold one (literally!) for about $98 by clicking here.