Two New Studio Quality iPad Microphones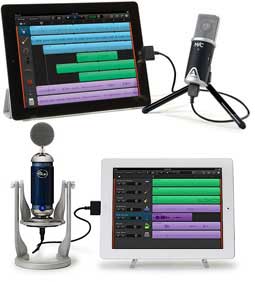 Lately there have been a lot of audio devices for iOS – meaning for iPad, iPhone and iPod Touch. So far it has been difficult to get really great audio recording using an iOS microphone (like the IK Multimedia iRig Mic – see our review of that here –
Review of IK Multimedia's iRig Microphone For iPhone, iPad, and iPod Touch) or iOS mic interface/preamp (such as the IK Multimedia iRig PRE). both of which attach to the iPad via the mic/headphone jack. But even though the quality of those is pretty good, the interface via the mic/headphone jack limits the audio quality.
Enter two notable microphones for iOS, the Blue Spark Digital, and the Apogee Electronics MiC. Both of these microphones use the Apple 30-pin connector as opposed to the mic/headphone jack, and both double as USB mics that you can use with both Mac and/or PC (the Blue works with both but the Apogee only mentions working with Mac). And of course, the names Blue and Apogee Electronics are well-respected manufacturers of excellent quality audio gear. I read an article yesterday that proclaimed the Blue Spark Digital to be the "first studio grade condenser mic available for iPad." While it may have been first, it is no longer the "only" mic in that category with the availability of the Apogee MiC.
Blue Spark Digital
The Blue Spark Digital microphone is a USB/iOS version of Blue's solid state Spark cardioid condenser mic, sharing all the top-notch components. It also has a headphone jack on the mic. In addition, it has a feature called the Focus control, a button that offers two sonic modes. Normal mode is for increased low frequency sensitivity, and Focus mode is for "even greater clarity and detail." It's perfect for recording vocals and acoustic instruments. It comes with a desk stand with integrated shock mount, a Y-cable with USB, iPad and headphone connectors, and Blue's Cloud Production bundle for audio back-up and sharing on-line. $199.99
Apogee Electronics MiC
The Apogee MiC, is also designed primarily for vocals and acoustic instruments and, like the Blue, also has a cardioid pickup pattern. Also as with the Blue, the Apogee has a control knob for input level adjustment as well as a meter to monitor input signal levels. It comes with a tripod desk stand, an iOS connection cable and a Mac connection cable.
Both mics sound fantastic and as far as I know, the highest quality mics available for recording on an iPad, iPhone, or iPod touch. And don't forget that both can also be used with a computer via USB (though the Apogee can only be used with a Mac). $199.