Louis Litt's Dictaphone Continues To Play A Supporting Role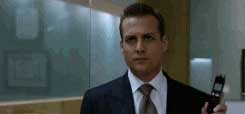 Who knew a digital voice recorder would star in a TV network series? When I wrote the article about the dictaphone owned by Louis Litt from the TV series, Suits, on the USA network, I didn't have any inkling that this " XJS 5000 Dictaphone" ( a fictional portable voice recorder that is, in reality, the Sony ICD-SX712 digital voice recorder) would continue to play such a pivotal role in the series. But every week since the voice recorder made its appearance, not only do we see Louis using it, but we see major plot points revolving around it.
Two episodes ago, the recorder was a comic device. We saw Louis making funny and ridiculous little recordings. One example is when Harvey says "you're the man," and Louis records it. Then when Harvey leaves the room, Louis plays it over and over, stopping to talk to his little machine saying things like "who's the man?" and then hitting the "play" button to hear Harvey's recorded voice saying "you're the man" again, ad infintum.
There were more funny recordings revealed in last night's episode (July 26th) when Mike gets a hold of it and finds Louis' recordings of "Goal number 7: perfect a British accent. Hey, top of the morning mate! Would you like some tea and crumpets?" and "You have been Litt up!"
But it seems all comedic actors eventually want some darker, more serious role. A few episodes ago, Louis left the recorder hidden in Harvey's office and learned a secret Harvey was keeping from the newly-returned founding partner, Daniel Hardman. Louis then used that information to curry favor with Daniel and get back at Harvey for - well - anything really. There is no love lost between them. But I digress!
Last night Mike gave Harvey the recorder and revealed Louis' treachery. Harvey then confronts Louis and another good dramatic role was had by the little digital voice recorder that could.
Since writing the original article, several folks have written in to vouch for how awesome the Sony ICD-SX712 digital voice recorder actually is. If you'd like to join Louis Litt in ownership of this cool little device, check it out here.