Q&A About The Rode NT2-A Microphone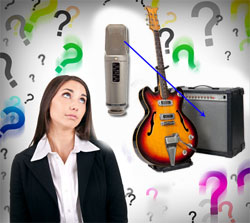 Someone sent me a question this morning after listening to the audio samples (of both acoustic guitar and voice-over vocal) in my review of the Audio-Technica AT2035 large diaphragm condenser microphone here: Review Of The Audio-Technica AT2035 Microphone (Audio Samples): In that review, I compare the AT2035 with the Rode NT2-A.
I thought I'd share his question and my answer.
Here is his question:
I was looking at your review of the AT2035 and i noticed an emphasis on the mid range. The Rode NT2-A mic sounds better to me.
Now, I'm looking for a microphone that i can record my electric guitar ( loud volumes but not blistering loud) my voice, and my acoustic guitar. So I was wondering - can I record my electric guitar with the Rode mic that you demoed in the video?
Thanks!
Here is my answer:
Yes the Rode NT2a is definitely the better mic no question. It's my primary mic! And you can also get great results using it to record voice, acoustic and electric guitar.
However, it is VERY important that you understand something about using a large diaphragm condenser to record an electric guitar amp. These mics are VERY sensitive so you'd need to make sure your amp's volume is low enough when you record.
You can still get great "big" sound with the amp volume turned down. Once it's recorded, then crank it up in the mix. But if it's too loud when recording you could damage the mic and/or clip your recording levels. Since the NT2-A has a pad switch, I recommend setting it to -10 dB.
The other thing about this mic is that it is multi-pattern. What does that mean? Well, first you might want a reminder of what different polar patterns are. For that see my post Directional and Omnidirectional Microphones - What Are They Good For?
A multi-pattern microphone allows you to switch what kind of pattern you want. You can choose omnidirectional, figure-8 or cardioid. So you basically get 3 mics in 1!
Hope that helps!
Ken