Guitar Paul McCartney Played on Saturday Night Live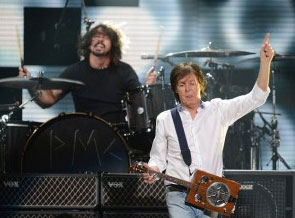 Paul McCartney played a very odd guitar on the December 15th episode of Saturday Night Live during his performance with surviving members of Nirvana.
It was a Cigar Box guitar (or CBG for short). The body is a large cigar box with a resonator in it, which makes it perfect for playing slide guitar. The other odd thing was that it only had 4 strings. A little research showed that cigar box guitars are commonly made with only 3 or 4 strings.
You can actually make your own CBG with kits like the CB Gitty Cigar Box Guitar Kit, or just buy your own - like this CB Gitty Standard Model Cigar Box Guitar #1 - "Romeo and Julietta 3-Stringer."