1-Man Rock Band: "Song In the Box" Part 2
As I mentioned in my post "Rock Song In The Box", about recording on your pc recording studio, I'm working on recording Snow Patrol's "You're All That I Have," just for fun and as a demonstration of how you can record a rock song on you're computer!
I use the term "in the box" to mean that everything is done straight into the computer that you use for you pc recording studio. I don't have a guitar amplifier or a bass amplifier. I also don't have a drum kit or any back-up singers. This is strictly a 1-man rock band thing. So how in the world can you record a rock song without the stuff I mentioned?
Well, let's start by making clear what I DO have.
1. A computer
2. A microphone
3. An electric guitar
4. An electric bass
5. Two USB "interface" boxes for the computer
6. Audio software
That's pretty much it.  Here is the mp3 if you are interested in hearing it:  You're All I Have Cover Clip 2
Here is what you're hearing.
Electric guitar part 1 panned left
Electric guitar part 2 panned right
Bass guitar
Drums
Lead vocal, completely dry and unprocesed (no tuning, no reverb, no editing, etc.)
2 voices singing "ooos" panned left and right (also not processed)
2 voices singing harmony on the chorus, also panned a bit (also not processed)
So there are 9 tracks so far, each recorded by yours truly, one at a time. The drums went first. but how did I do it without a drum kit? I used drum software! I programmed the drum parts and recorded them as a stereo file (1 track).
The bass went next. How did I do that without an amp? I plugged the cord into one of those USB interfaces I mentioned earlier. That interface came with software that "emulates" different kinds of bass amplifiers (track 2). I did the same thing with the electric guitars. The same program has amp models for them too. I used one amp model for the 1st guitar, and a different sound for the 2nd guitar (tracks 3 and 4).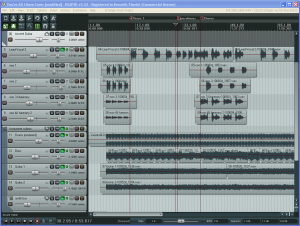 Next came the singing. the microphone I used was plugged into the other USB interface box I mentioned. The lead vocal part is on track 5. There are"ooo" parts as well, so I sang them twice (the same part on 2 different tracks), and panned 1 left and 1 right. There is also a harmony part during the chorus. I also sang that part twice (on 2 tracks), and panned them (tracks 6-9).
Cheers,
Ken