24-Bit Microphone For iPhone and iPad: RODE iXY Stereo Mic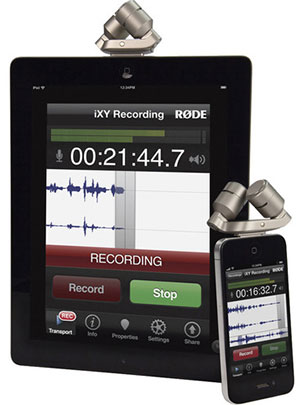 The Rode iXY microphone is a high quality microphone you can attach to your iPhone or iPad.
It plugs into the lightning connector of your device as opposed to the headphone jack like so many other iOS mics. This is incredibly cool, especially since Apple stopped putting headphone jacks on!
I use a Rode microphone as my primary vocal mic - The Rode NT2-A, and it's awesome, just like all Rode mics. So I'm particularly excited to get my hands on a mic made by Rode that works with iPads and iPhones.
To date, most of the really good mics that work with iPads and iPhones plug into the dock connector like the iXY, but have been rather large mono mics, like the Blue Spark Digital and the Apogee Electronics MiC - see our article about those two mics here: Two New Studio Quality iPad Microphones.
This new Rode mic is high quality mic like those two, but will be very portable and of course, will be stereo (hence the two half-inch cardioid condenser capsules). By the way, these two capsules are in the "X-Y" stereo configuration, which is why they point out and away and 90 degree angles.
The iXY turns an iPhone into an incredibly handy and high-quality field recording device.
This is great news for people who record lots of video, since it will allow them to attach the iPhone to their cameras and plug it into the external mic input (not all camcorders have external mic inputs, though - fair warning, fet one that does).
As for some specs, the mic is capable of recording 24-bit 96-KHz (sampling frequency) audio, which is fabulous. And you can record audio using any iOS audio recording app, though I highly recommend using Rode's new recording app, the Rode Rec Audio - see more about that in our post here: RØDE Rec Audio Recording App For iPhone And iPod Touch.
Just Click Here to find out more or to buy one from Amazon.