Amy Poehler Headphones in Best Buy Commercial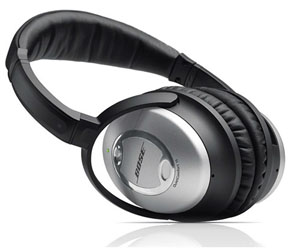 Amy Poehler appeared in a Best Buy commercial where she walks out wearing a pair of headphones. The ad ran during the Super Bowl. Well if you were wondering what headphones these were, wonder no more. They were the Bose QuietComfort 15 Acoustic Noise Cancelling Headphones.
In the middle of the ad, she asks "are these noise-cancelling headphones?" The answer is: Why, yes. Yes they are. They also have in-line phone control you can use to remotely control volume, track selections and voice applications for iPhones. Or you can just remove the cable altogether and enjoy the quiet.
Bose says they have put their most advanced noise reduction and noise cancelling tech into these headphones for the quietest experience possible.
And last, but certainly not least, is the quality of the sound. With a name like Bose, you almost don't need to even ask. They've done some amazing next-gen things with speaker technology over the past few decades. So it's no surprise how great these headphones sound. They use tiny vents in the ear cups to allow for a balanced and incredible sound.
As with all things Bose, you cannot go wrong.
To find out more about all the cool things these headphones can do, and/or to pick up a pair of your own, CLICK HERE.