Monitor Speakers On A Budget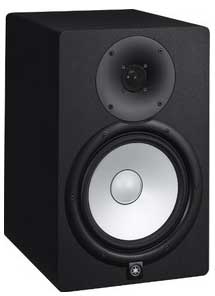 If you are recording and mixing music in your home recording studio, then I highly, HIGHLY (getting the idea? :-)) recommend having a pair of monitor speakers.
Yes, when just getting started, you can sorta get by using headphones instead. And if you're only recording voice-overs (no music), I'd go so far as to say you don't really need monitor speakers. But for music, it's absolutely critical if you expect to produce professional sounding mixes.
Why is that? Well you can get a good idea of why if you take something that sounded good in your headphones and listen to that in your car or over your entertainment center speakers, etc. Do you notice that it doesn't sound anywhere near as good?
I know I was kinda horrified when I heard my music over real speakers after it sounded good in the headphones.
The reason for this is that most sound is experienced in the real word "through the air." Speakers allow you to hear the sound more accurately because it is coming through the air and not being pumped straight into your ears through the cans (headphones). Yes, a bad room will also distort the sound some. So you have to take that into account (listening on lots of different types of speakers (the car works great for "telling it like it is"). But while mixing, you should rely MUCH more on speakers than headphones.
There is even a rule of thumb in music mixing - "NEVER use headphones." I wouldn't go THAT far. But I would prioritize getting a pair of monitor speakers VERY high on your budget for your home studio if you record music.
So the next question becomes - "what monitors should I get? Music Critic has done some of that work for you in their post "10 Best Studio Monitors & Speakers of 2018." That would be an excellent starting point.
Music Radar also has a list of 5 of the most affordable speakers in their article below.
You can read about some of the more affordable models here: http://www.musicradar.com/news/tech/5-of-the-best-affordable-monitor-speakers-570959/1