McIntosh Preamplifier on Elementary TV Show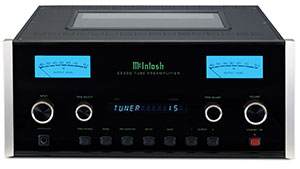 Sherlock Holmes, in an episode of the CBS show Elementary this past week (Feb 14th) showed a close-up of a cool audio device called the McIntosh C2300 Preamplifier. Holmes was using it to play loud music in his house so the neighbors would not hear him firing a gun to conduct a ballistics test. The camera zoomed in very close to the face of the McIntosh and stayed there for a few seconds. It seemed pretty obvious that it was a paid product placement. But I'd never heard of it before. So what is it?
McIntosh makes high-quality consumer audio electronics, specifically focusing on the units that serve as the audio hub for your home theater or entertainment center. The C2300 has a bunch of inputs on the back to pug in your TV, CD player, cable box router, Apple TV, etc. and even a record player.  It has 2 phono inputs, which are not easy to find anymore, since record players are pretty rare and require special processing. Specifically it has 6 stereo and 2 phono inputs (unbalanced) and 3 balanced stereo inputs. And in addition to the headphone outputs, it has 3 balanced stereo outputs and 3 unbalanced stereo outputs.
Another thing that sets this model apart from some others is that it is a tube preamplifier, which means that it uses vacuum tubes instead of transistors. Tubes are often preferred for audio applications for how they sound, imparting a warm and lovely quality to the audio. But that is arguably what makes it so expensive.
These are expensive high-end pieces of home audio gear that you won't find on Amazon or anywhere on-line (that I could find). You'll have to go to your closest high-end home theater and audio dealer. Here in San Antonio you can get them at Bjorns. The C2300 goes for about $4,500. I know, right!? But Sherlock Holmes has access to - as he puts it - certain funds. So I guess he can afford it.
Check out the McIntosh website for more information on the C2300 Tube Preamplifier.