Vocal Harmony Experiments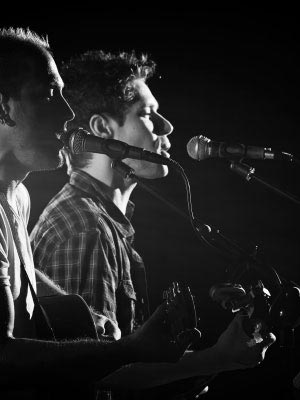 One of the main reasons I got into recording audio was frustration that none of my friends seemed to know what harmonies were - even if they could sing quite well. So I decided the only way to sing cool harmonies was to do it with myself.
I had an old cassette tape recorder with a tiny crappy mic on it. And my brother had a boom-box that could play cassette tapes. This was long before the days of portable CD players, and certainly long, LONG before the advent of mp3 players.
So I sang the melody of This Boy, by the Beatles, onto my tape recorder. Then I ejected the tape and put it into my brother's boom box, placing a new cassette tape into my tape recorder.
Then I played back the part I just sang from the boom box, recording it onto my recorder while singing George's harmony. Then I took THAT tape out of my recorder, stuck it into the boom box, and put the other tape back into the recorder and pressed "play" on the boom box while recording it onto my recorder and singing Paul's part.
Voila! 3-part harmony with myself. It was like magic - pure, hissy (boy was there a lot of tape hiss noise!) vocal harmony magic.
Well, I messed with all the technology through the years and in 2013, we have wonderfully quiet, high-quality recording tech at our fingertips for just a few bucks. I've been doing harmony with that tech on this site. Below are some of the examples of what you can do now.
Our course - Harmony Recording Awesomeness - shows you step-by-step how to sing harmony with yourself.
Also, see the article whose link is at the bottom of the page with one of the first articles we ever published - Sing Harmony With Yourself – Learn How to Record Your Voice on Your PC and Sing Along With It!
3. Helplessly Hoping (Crosby, Stills and Nash) - This one is a video and is the entire song!