Golden Age Project – Entry Level Pro Audio Microphones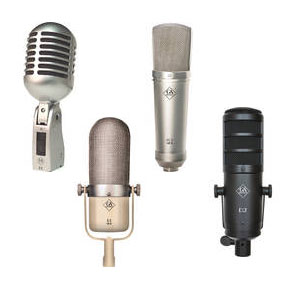 I recently discovered a company called The Golden Age Project that sells what they call entry-level microphones and other cool audio products like preamps, equalizers, compressors and accessories. From their website: We are dedicated to the idea of giving you the best price/performance ratio in the industry!
In the interest of full disclosure I have to admit that I do not own any Golden Age Project products.  When I say "just discovered" above, I mean as in I just read about them 5 minutes ago.  This will change, of course.  I plan to acquire some of their wares as soon as may be. 
But until then I thought I'd share what I know so far, mainly because their philosophy of providing the best price/performance ratio is quite consistent with mine.  I try to get the word out that you can enter into the world of professional audio without spending nearly as much as you think you'd have to.
So here are a few of their products:
D2 – Large Diaphragm Dynamic Microphone (similar to the RE20 radio broadcast mic)
FC 1 MK II – F.E.T Condenser Microphone
F4 – Multi-Pattern Small Capsule Condenser Microphone
D1 Classic-Style Dynamic Microphone
PRE-73 MKII – Vintage Style Preamplifier
As soon as I get an opportunity to review these items I will let everyone know with a series of new posts.
They look awesome, but of course it's how they sound that matters.
Cheers,
Ken