What Microphone Did Neal Caffrey Use In White Collar?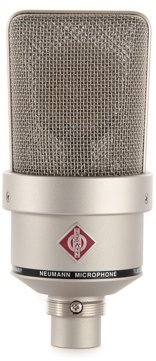 On the Oct 17th season premiere of the  USA show, White Collar, Neal Caffrey records his voice into a microphone to impersonate the voice of his father in order to convince authorities to release Peter. The microphone he used was a lovely Neumann TLM 103 microphone. I have several microphones on my bucket list - or... whatever you call the list you put desired microphones on. The TLM 103 is near the top of that list (see my post - Sennheiser MKH 416 Shotgun Microphone Review for the mic in the #1 position).
Neumann is renowned for making top-notch microphones. I'd be happy to have any of them, or...all of them:). The 103 is likely to be the one to get me in the least trouble with my wife, though. At about $1,100, it's one of the more affordable Neumann's, which is a bargain compared to the classic Neumann U87, which you can have for a mere $3,600. Of course it is worth it if you can muster the dough.
I'm always curious when a microphone shows up on a popular TV show. I thought others might be too. So I usually go to the internet and start researching. But when it's a Neumann TLM 103, there is no research needed. I'd recognize it anywhere.
The TLM 103 is a large-diaphragm condenser (LDC) mic. It's terrific for vocals - both for voice-over use and, of course, singing. And as with most LDCs, it's also great as an all-around mic particularly good at recording acoustic guitar, piano, drum-kit overheads, etc.
If you want to order one for your very own, B&H has them here. And they offer free shipping.