In-Ear Noise-Canceling Headphones - Bose QC20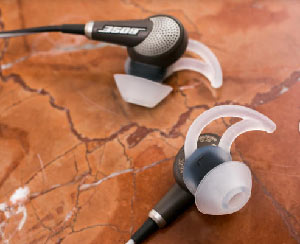 The Bose QuietComfort 20 and 20i (QC20/QC20i) is an in-ear headphone (or I guess you can call them earphones, like we had when I was a kid in the 70s) that by all accounts is the best noise-canceling headphones available that are not big cups that hang off the side of your head.
I said "by all accounts" because the reviews by the likes of CNET and Forbes have anointed the QC20 the clear winner in the category of noise-cancellation by from, basically, earbuds.
It has become common with people who travel a lot, especially on planes, to block out distracting and irritating noise. The tool of choice for this has become noise-canceling headphones. Typically you have only been able to get this from traditional type headphones, either the kind that go on your ears, or the kind that go over them, fully encompassing your ears and resting on your noggin. That last variety is called "circumaural" or just full size headphones.
Circumaural headphones have the advantage, right off the bat, of being able to block out noise simply because they seal around your ears. This is called passive noise reduction.
Then if you add active noise cancellation - electronically preventing certain frequencies from being audible (by means of mirroring incoming sound and creating a negative of it) - and it becomes pretty clear that you can get the most noise reduction from circumaural headphones.
That's why you see so many people on airplanes these days looking like they just came off a firing range. They're bulky and unwieldy.
So wouldn't it be great if you could get similar noise-blocking from something a lot more convenient like earbuds? They can provide some passive noise cancellation by physically blocking your ear canal. But if you add in the active noise cancellation too, you can have a much lower profile, lighter, and more convenient experience while traveling.
Of course there are several brands of in-ear noise-cancelling headphones out there. But the Bose QuietComfort 20 and 20i (the 20i being the one specifically designed for Apple iPods, iPhones and iPads) has been dubbed the best of these in several on-line reviews, including this one from CNET - Bose QuietComfort 20 review.
Of course, as with most modern noise-canceling headphones, the QC20s are equipped with in-line mic/remote for Android, Blackberry, and Windows phones. And the QC20i works with iPhones.
So if you are looking for a quiet traveling experience, but don't want to deal with big, bulky headphones, the best quality you can get comes in the form of the Bose QC20. CLICK HERE for more information or to buy.