What Microphone Did Beck Use On Saturday Night Live?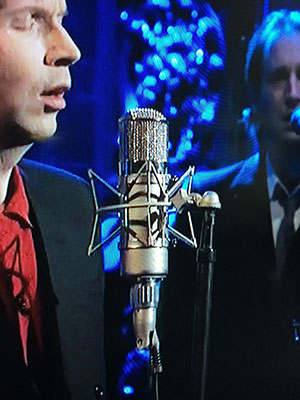 When Beck sang "Wave" on SNL (Mar 1st, 2014), he did something unusual. He sang into a large diaphragm condenser  (LDC) microphone for a live performance.
These mics are typically used only for recording - usually vocals. Singers usually use dynamic microphones for performing live, as Beck did on his first song, "Blue Moon," a Heil Sound PR 35.
But on "Wave," Beck sang into a large diaphragm condenser tube microphone called the Telefunken U47/U48, which is a fabulous microphone, used in the studio by some of the greatest acts of all time such as The Beatles and Frank Sinatra, just to name a few.
The main reason that large diaphragm condenser mics are normally only used in the studio is that they are incredibly sensitive, not only in how they pick up sound, but also in how stage-rugged they are not.
That last point is significant because this microphone is quite a bit more expensive than typical live dynamic mics like the Heil. You do sometimes see them used in the movies or music videos because they look cool. But for actual live performance, it is most definitely NOT normal to see this.
To find out more about this famous and awesome microphone - or to purchase one of your own - CLICK HERE