The New Zoom H5 Handy Recorder Finally Available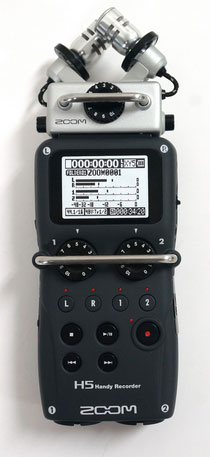 The long-awaited Zoom H5 Handy Recorder (the smaller, more affordable version of the H6) is finally here!
The Zoom H-series of hand-held digital recording devices are incredible - allowing you to record pro quality audio with an all-in-one unit (mics, power, preamps, conversion, storage and even some editing!) that you can hold in your hand (hence.....the term....hand-held:-P).
Anyway, the Zoom H5 Handy Recorder was recently announced, boasting all the essential features of the much more expensive H6, but smaller and more affordable. However, though the tantalizing description has been out there for a bit, you couldn't actually get your hands on one. Now you can get your own if you CLICK HERE.
So what is the H5? Well, let's start with one of its predecessors, the Zoom H4n. It was incredible for any number of on-the-go recording applications, and it became the "holy grail" for videographers and film-makers (especially the ones using DSLRs) because it allows you to record fantastic audio while doing location shoots, something very difficult to do. Also, you could use the H4n as an audio interface for your computer because it had two XLR (standard 3-pin) mic inputs. It was fabulous for any number of mobile recording purposes.
Zoom then improved on the H4n, which was already recognized as a world-class "next gen" portable audio recorder, by coming out with the H6, which is mind-blowing. It fixed all the things that were a bit bothersome about the H4n, like sometimes not providing enough gain, noisy level buttons, etc. Plus there are tons of new features with the H6 - the most amazing of which is the modular/interchangeable mic system that allows you to switch out the standard X-Y stereo mic on top with an array of other mic modules, including a shotgun, mid-side (MS), and dual XLR/TRS. They also added improved preamps, a color screen, and a number of other bells and whistles. And for all of this awesomeness, the price of the H6 ($399.99) is just about double that of the H4n.
Enter The H5
The H5 scales back on some of the features on the H6 - things like the color screen, number of inputs, etc. But the H5 retains all the essentials. For example, it has the same audio recording quality, modular mic system compatible with all the H6 Mic Modules, physical transport controls, etc. as the H6. It's also quite a bit smaller, making it more convenient. And the best news of all? The price! The H5 is only $269.99, 130 bucks less than its big sibling. That makes it much more accessible for hobbyists (or anyone else on a tough budget), while continuing to provide professional level quality.
So now that they are in stock at B&H, CLICK HERE to get yours:).
Cheers!
Ken