Incredible New Mic Stand Technology: Triad-Orbit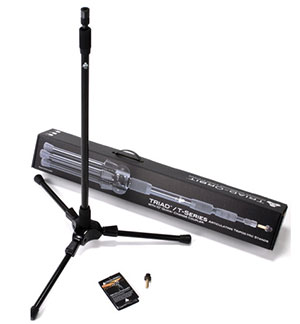 I am having one of those "I-have-got-to-get-me-one-of-these" moments right now.
I just found out about a new microphone stand that solves a lot of problems I really need solving.
I know, what in the way of "innovative" can be brought to the lowly mic stand? The answer is the Triad-Orbit modular mic stand system.
The Triad-Orbit has interchangeable parts that allow you to – are you ready for this? – snap on/off a shock-mount or microphone or camera or light in like 3 seconds! I can't tell you how much time I've spent in my life changing microphones.
Studio mics tend to have their own clips, and/or their own shock-mounts. Usually, to move my primary microphone (Rode NT2-A) from its normal position on my desk boom to a mic stand in the middle of the room, I have to:
Remove the heavy mic from the shock-mount.
Then I have to unscrew the shock-mount from the desk boom.
Next, I screw the shock-mount onto the new stand.
And finally, I screw the mic back into its mount.
The entire operation takes 3-to-5 minutes.
With the Triad-Orbit system, I could uncouple the mount with the mic in it from the desk boom and clip it onto the new stand in about 5 seconds. And that is only 1 of the cool things the Triad-Orbit system can do.
Each Triad stand uses the standard 3-leg set-up, but those legs have 4 ratcheting positions. That means you can change the angle of each leg. If floor space is an issue, this allows you to shrink the stand's footprint. And since each leg can be adjusted independently, the ratcheting ability allows you to angle the stand into unusual positions.
There are several other advantages to the Triad-Orbit system, including different attachments like the Dual-Arm boom, which allows you to do stereo mic set-ups with just one stand, get multiple mics into multiple positions – like drums – with just one stand, etc.
And then there's the iOrbit 1, which is an orbital iPad holder. So you can put a mic and an iPad on the same stand with the Triad-Orbit mic stand system. For more details, CLICK HERE.