The New Rode NT-USB Microphone
Rode recently released a studio quality USB mic - the Rode NT-USB. I am super excited about this because my primary studio microphone - for voiceovers and for music recording - has been a Rode NT2-A microphone for about 10 years now:).
The quality is outstanding. But though it definitely fights way above its weight (odd metaphor meaning its quality is similar to that of much more expensive mics:)), at $399 it's still a bit pricey for folks just getting started.
But now you can have Rode NT quality for a much more affordable price. The NT-USB is just $169 (with free shipping in the US from Amazon). Nice!
Along with the microphone itself, the box contains a pop filter/shield, a tripod desk stand, a USB cable (duh), and a ring mount. So you can remove (unscrew) the desk tripod and attach the mic to a regular mic stand using the mount.
So what are the features?
As with all USB mics, you do not need a separate audio interface unit/box between the mic and your computer (it works with both Windows and Mac machines, BTW). You simply plug the thing into a USB port and you're on your way.
The analog-to-digital (A/D) converter and preamp are built right into the microphone. So not only are USB microphones less expensive in general, but they allow you to get into professional quality recording at a fraction of the cost of standard (XLR) microphone set-ups because you don't ALSO have to buy the interface!
Here is an example. For a setup similar mine, you'd have to buy the microphone (the Rode NT1-A is the single pattern (cardioid) XLR equivalent and costs $229) and an interface (like the Focusrite Scarlett Solo - $99.00), which would cost a total of $329.99. The new NT-USB mic allows you to get in the game for less than half that!
Anyway, here are the features. It records 16-bit/48 KHz resolution, has a single cardioid pickup pattern, has a headphone monitoring jack (1/8th-inch) right on the mic with a knob (also on the side of the mic) for headphone volume), and has "Direct Mix Control."
That last thing means you can control the mix (via a 2nd knob on the mic) between what's going into the mic (your voice, for example), and what is playing back at the same time, maybe some music you're singing along to). With the dial all the way to the left, you would hear only what is going into the mic. You'd probably use this if you didn't need to listen to any reference tracks for syncing or overdubbing.
If you ARE overdubbing (layering a 2nd, 3rd, etc. track along with previously recorded audio), you'd want to hear BOTH your voice (or guitar, etc.) as you record it, AND those previously recorded tracks.  
So you'd turn the dial somewhere in the middle. You can adjust which source is louder in your headphones. Then after you're done recording, you can listen to the playback of ONLY what is already recorded (without any distracting sounds from the mic like breathing, purring or meowing cats, etc.) by turning the dial all the way to the right.
Did I mention you could use it on your iPad?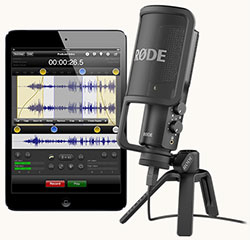 Oh yeah. You can use this mic on your iPad! There are lots of audio recording programs for iOS devices. Of course Rode recommends their excellent (I use it frequently) app, the RØDE Rec, RØDE's dedicated audio app. But it also works great with the Garage Band app, Imageline's FL Studio app, etc.
HOWEVER, you will need the Apple iPad Camera Connection Kit (for iPad 1st to 3rd gen with the 30-pin connector) or the Apple Lightning to USB Camera Adapter Cable (for iPads with the lightning connector - 4th gen and later) to record on the iPad. This kit is simply an adapter cable that lets you connect media devices to an iPad.
It is pretty exciting stuff (for this geek, anyway) to see the big names in audio gear putting out great quality AND affordable recording equipment. CLICK HERE to get more details or to buy one of your very own.
Oh, and below is a promo video from RØDE.