Craig Anderton's Six Favorite Home Studio Accessories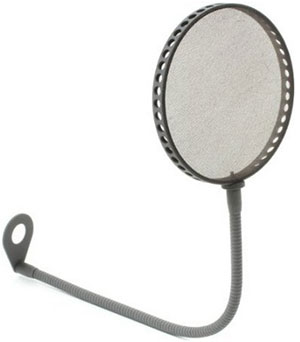 Craig Anderton, who is famous in the recording and electronic music making world for his books, articles and, of course, as a musician, just published an article about his six favorite home studio accessories.
That definitely caught my eye as something our readers might be interested in. So I checked it out.
There are some very useful items on that list (which you can see for yourself at the link below), but the one that truly made me sit up and take notice was a pop filter.
These are really common and usually pretty inexpensive - around 20 bucks - but I have never really had one that worked so well that it eliminated ALL of my vocal p-pops/plosives (see our article, How to Fix a "P-Pop" in Your Audio With Sound Editing Software for more on this topic).
In the past, I have usually had to edit them out with audio software. I've even doubled up, using two pop screens when recording vocals, but some plosives still get through.
Well Craig swears he has finally found a pop filter that actually, REALLY works...and I hope so, because it's expensive! Even so, I'll be getting one to try out, and I'll post the results of my review right here. This super pop filter is the Pauly Ton Superscreen pop filter.
Below is Crag Anderton's full list. Enjoy!