Google's Awesome "Inside Abbey Road" Virtual Tour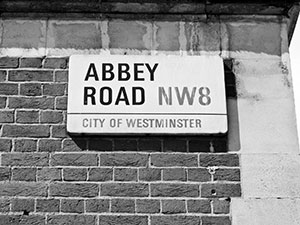 This is soooooo amazing! Google has an incredible virtual tour of the most famous recording studio on earth - Abbey Road. When I read about it, I was immediately interested because I'm a huge Beatles fan, and of course they famously recorded at Abbey Road. They even had an album named "Abbey Road." But obviously many famous recordings have been made there by many famous musicians. It's also where a lot of movie scores, such as Star Wars and Harry Potter, were recorded.
So what is this virtual tour thing? You use your mouse to explore a space in 3D. But this is so much more! There is a guided tour, narrated by Giles Martin, son of Beatles producer, George Martin. He takes you through the studios like a real tour guide, explaining what you're looking at and all the cool stuff they can and have done with their space and gear. But you can also turn off the guided tour and just navigate around inside, like you're actually there. Google have put clickable hot-spots and pop-ups with details about various topics. I could spend hours just doing that. But then I found.....
The Mixing Desk
This is so addicting! You get to mix music at Abbey Road Studios...sort of. It's like a game where you are given a song and a virtual mixing board. Then you get a toggle with the "original" version of the song (there are several songs of different genres to play with) on the left, and a "My Mix" switch on the right. The mixing board has four sliders with labels telling you what is on that track. For example, the first song I played with was an orchestral piece with drums on track 1, orchestra on track 2, keyboard on track 3 and guitar on track 4. Another example had backup vocals on track 1, rhythm (drums, bass, guitar and keyboard already sub-mixed) on track 2, lead vocal on track 3, and brass on track 4. the object is to move the sliders around listening to your mix, then toggle back to the original and try to make it sound as close as you can to that. When you think you've done it, you hit "Submit" and it gives you a score and a comment, like "93% - nailed it. See you at the Grammys!" I had to tear myself away from this because it was so much fun! I had other stuff to do, like eat:-P.
Of course it can really be super helpful as practice for your own mixing chops in the real world as well. The game already has everything panned and most things are already mixed together in their "sub-mixes," which means that parts of a song (say, all the drums or all the brass) are already blended to the perfect drum (or brass) mix, then that mix is put onto a single track. So you only have the simple (ish) job of mixing the 4 tracks together with the virtual sliders without worrying about panning or effects, etc.
So go now and spend some time inside the Abbey Road studios - well, virtual Abbey Road anyway. CLICK HERE to be whisked away.