12 Tips for Creating Better Electronic Dance Music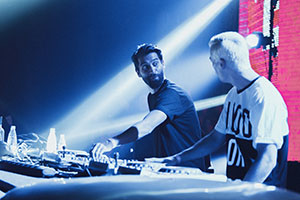 Disc Makers offers 12 tips for producing good electronic dance music (EDM) on their blog - Twelve tips for producing massive and original electronic dance music.
One of the most important bits of advice here, in my opinion, is to steer clear of using loop libraries right out of the box. If you do it right, it isn't illegal. But it if it's in a commercial library, it's likely that lots of other EDM producers are using those same loops.
So the key is to use loops in addition to something you create. Let's say you record a drum beat with virtual drums (see my article Drumming Without Drums - Use A Virtual Drumming App OnYour Computer.)
There are tons of tools out there that will allow you to create and to be more original.
This article has tons of tips beyond just suggested sound sources. One crucial piece of advice here is the importance of the kick drum. Preve mentions having worked on tracks where he had all the right sounds, they were in all the right places, and everything was on the beat.
But it still didn't quite work. But when he tried replacing the type of kick drum he was using, and tweaking that sound, suddenly things all came together. So if nothing else, keep the kick drum in mind at all times. If you use MIDI, swapping out one drum for another is a matter of seconds. So it's a pretty quick fix.
Of course, there are eleven more tips in the article, which was written by EDM producer Francis Preve. Check it out here: http://blog.discmakers.com/2015/04/twelve-tips-for-producing-electronic-dance-music/#ixzz3Y3qlWsoC