New Zoom Q8 Video And Audio Recorder Now Available
Zoom North America recently released the new Zoom Q8 Handy Video (and Audio) Recorder, which is now available in stores. The Q8 was the first compact fixed-lens HD video recorder (camcorder) that also records high quality audio.
I have the first version of the Q8 from a few years back, and not only did it record only standard definition video back then, but its pair of microphones (it has two mic capsules arranged in a stereo "X-Y" configuration) was the only way to record audio.
I actually always thought that this was a huge disadvantage, not really offering much better audio than most camcorders were already recording, even though the mics were better. That's because in order for audio for video to sound really good, you have to get the mics close to your subject - regardless of how good the mics are. See my post (and video) "How To Get Good Audio On Your Videos" for more on this. The old Q8 offered no way to get the mics close to your subject unless the camera itself was up close too, which could make for some awkward video:-P.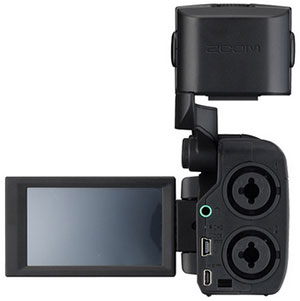 But the new Q8 (though it also has the on-board stereo X-Y mics) also has two XLR microphone input jacks! See the pic on the right. This is AWESOME!
Read more about this here: http://www.vizworld.com/2015/04/zoom-q8-handy-video-recorder-is-now-available-in-stores/#sthash.bFBglvqf.dpbs