Reaper Audio Recording Demo Video Updated for 2015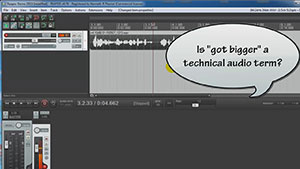 A few years ago - back when making videos was - umm - not our (and by "our," we mean Ken's) strong suit - we put a video up on YouTube showing you how to record audio with Reaper software. The video walks you through how to create:
A voice-over recording with a background music track, and
A music recording (a free virtual piano instrument plugin) with a vocal track
Well, as I alluded to above, that original video didn't look so good. But it was really popular, with about 90,000 views! We still get comments every week telling us how much folks like it - even with the poor video quality. So we created a fresh and shiny, brand new video showing you how to do those same recordings. Not only does it use the latest version of both Reaper and Audacity, but it looks a heck of a lot better too! Also, it finally resolves the question a lot of folks had about why you might want to use an external editor in addition to Reaper. The answer: you probably don't. But this new video shows you how to make basic edits BOTH ways - with an external editor (showing you how to set that up in Reaper), AND just using Reaper itself.
Below are the new videos. Yes, that's videos plural because this time around, the tutorial was a bit longer, showing you how to do a few more cool things. So we split it into 2 parts.