Rode Wireless Kit For Better Audio On Your Videos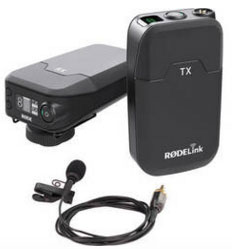 Here is a wireless lavalier (lapel mic) kit by Rode to help you get better audio on your videos. I harp a lot on the prevalence of bad sounding audio that so many people seem to have on their videos. It isn't that hard or expensive to get awesome quality on videos. See my post, How To Get Good Audio On Your Videos on ways to do this.  There's even a video of my talking head with both good and bad audio so you can hear the effect of some of the solutions. Anyway...
One of the ways I mention for improving the quality of the audio on your videos is to use a lavalier microphone, also known as a lapel microphone. This gets the mic close to your mouth, which is the key to better audio. And wireless kits like the RodeLink Wireless Filmmaker's Kit allow the speaker to move around the room without worrying about wandering too far away from the mic. Plus they are more convenient than setting up a boom mic stand with a shotgun mic.
I've used a fairly cheap wireless lav kit called the Azden WMS-Pro, which runs only $149.70. It's terrific for people like me who don't shoot video more than few times a month. But it isn't very rugged. I'd want something better if I were shooting video in the field and doing it super often. The RodeLink Wireless kit is $394, but offers more features and can stand up better to everyday use.
DSLR Video Shooter did a review - video and article - on the RodeLink kit, which you can read (and watch) all about here: http://dslrvideoshooter.com/rodelink-wireless-filmmakers-kit-review/
So here is yet another way to sound professional AND look professional by making sure you have better audio on your videos.