How to Match Loop Tempos In Reaper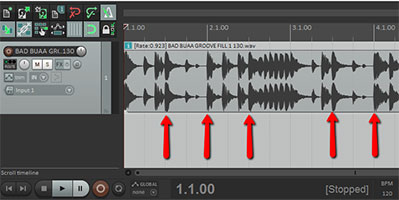 Reaper is great for working with loops.
Open the Media Explorer window in a Reaper project and you can audition any loop. When you find one you like, just drag it onto a track!
But what do you do if your Reaper project is set to 120 beats per minute (BPM), but you really want to use a loop that is set to 130 BPM? Do you have to edit the loop to make it faster and then bring it into your song? Or is it just not possible to use that loop with your song?
Thankfully, the answer to both of those questions is a resounding NO!
Reaper's Tempo Matching Tool
Reaper makes it super easy to mix and match loops of all different tempos. While you are auditioning loops in the Media Explorer window, you'll see a drop-down menu on the bottom of the screen that says "Tempo Matching Off." That is the default setting. [UPDATE 2023: The Tempo Matching tool looks different in the latest versions. Here is what that looks like now: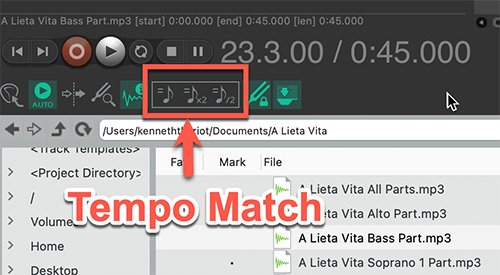 All you have to do is click on the menu and choose "Tempo Matching On." Do that before you drag a loop onto a track.
Then when you DO drag and drop the loop, its tempo will automatically change to whatever the tempo is in Reaper's Project Settings for your song!
How awesome is that?
See just how to do it in the short video below. The video is so short because actually matching tempos is so easy:).
Enjoy!
Free videos from "The Newbies Guide to Audio Recording Awesomeness"
These video tutorials show you step-by-step, in plain language how to record multi-track audio in Audacity AND Reaper software.
ACCESS VIDEOS NOW