Learn Home Recording Fast Using My Learning Curve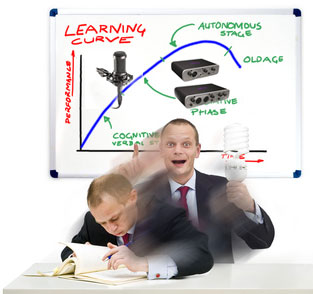 Home Brew Audio is a website I wish had been around 15 years ago!  Why?  So I wouldn't have had to spend so many years learning to do recording at home through the painfully slow-paced "trial-and-error" method. 
That learning process actually started closer to....oh let's just say "many more than 15 years" ago;).  I'm gonna post some of the gruesome details about THAT in another article...but the point is this: learning home recording by yourself when you have little-to-no cash can take decades!
Yeah, I know.  I just gave away my coy little secret....basically it all started when I was a kid (which is why I don't mind saying it was 30 YEARS AGO!).  That way I don't seem so old when I say "back then." 
ANYWAY, yes...you heard right....decades!  My cohorts and I have been through the frustration, the false-starts, the 2:00 am "pulling-out-of-the-hair-by-the-roots" sessions because we couldn't figure out what was wrong, spending months just assuming our poor-sounding audio was caused by cheap equipment (it wasn't!) when in reality it boiled down to forgetting to turn off the "noise-reduction" button on my car stereo!  And just generally 30 years of learning curve.
Why is this good news for you?  Because you get to use OUR learning curve!  We had nobody to teach or guide us.  We had no Home Brew Audio! 
If we HAD, that 30-year learning curve would have been condensed to something more like 1 or 2 years.  It could have been much less even than that, but we had other "supposedly important" things to worry about, like school, and then working a day job. 
Oh and the partying (of course).  Hey, we were musicians, which is why we wanted to learn to record audio in the first place.  But you get the idea.
Home Brew Audio is an idea we came up with to share our knowledge with folks who don't have the time to spend years "figuring it out" on their own, or sitting around in a recording studio. 
So we have assembled step-by-step tutorial videos that will show you how to create great sounding audio recordings on your computer.  Also, we will be your one-stop-shop.  Once you learn your new "mad recording skills," you can get "royalty-free" music clips, loops, sound effects, etc. through us as well.
There is something for everyone!  If you have no idea at all about audio, the The Newbies Guide To Audio Recording Awesomeness 1: The Basics With Audacity takes you by the hand and shows you how to create a professional audio production in less than one hour!   
If you're a starving artist (or a college student, or otherwise unable to drop $1,000 just to get started), there's something for you too...the "Starting on a Budget of $0.00" videos! (if you have a computer and an internet connection).  
For you old...I mean experienced recording engineers, there are some great vids here for you too.  And of course , we're always listening for other great ideas on what help you need might need creating audio for you blog or for your websites, music productions, audio-books, podcasts, etc.  Just let us know!
Check out our hundreds of articles here. And when you are ready to get started with the courses, start from the beginning with The Newbies Guide To Audio Recording Awesomeness 1: The Basics With Audacity. 
Be seeing you (or maybe "hearing you:)") soon!
Ken
Free videos from "The Newbies Guide to Audio Recording Awesomeness"
These video tutorials show you step-by-step, in plain language how to record multi-track audio in Audacity AND Reaper software.
ACCESS VIDEOS NOW