The High-End Mics and Interface Units Used to Record Queen and ELO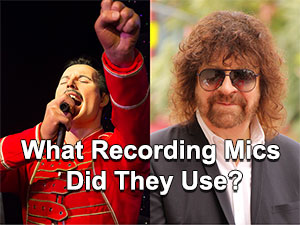 If you could have access to some super high-end recording gear to record vocals, what would that be? Most people cannot afford to have this stuff for their home recording studios. And for most people, that's OK.
In 2017, there are tons of affordable mics and interfaces that get you so close to the high-end stuff that it's good enough.
But if you DID have the budget for the high-end gear, there'd be no reason no to get some, right? I've been saying something similar to this to my wife for years:-P.
Anyway, Bobby Oswinski published an interview that mentioned - among other things - the gear used to record Queen and ELO, two of my favorite bands ever!
In the article, an interview with the engineer called Mack goes into some interesting techniques and specific (high-end) gear he used to record Queen and ELO, as well as a few other famous bands.
I have long been a particular fan of the way both of these bands sound - particularly their stellar vocal harmonies. So I was very interested to hear about the gear used to get that sound.
For vocals, he said he normally uses U47s. By that, he is referring to the Telefunken U47. But it seems like he is saying that he now uses a Neumann M 147 tube mic. As I mentioned in my post The Frank Sinatra Microphone.
For the preamp/converter, he says he uses "HD3C Millennia with the built-in Apogee converter.  "I think he may have meant the Millennia HV-3C. I couldn't find one with built-in converters. It must be a custom thing. But the kind of converter he is talking about is the type you can find in the Apogee Element thunderbolt interface.
About Jeff Lynne and ELO:
Interviewer: "The ELO stuff was always so squashed, even back then. But that's Jeff Lynn's sound, isn'€™t it."
Mack: "Yeah, he always liked any compressor that was used set to "stun" and he still does that today. And he didn't want any reverb or effects. You always had to sneak some stuff in to make it a little more roomy."
The entire original post is here.