Best Large Diaphragm Condenser Microphone Under 500 Dollars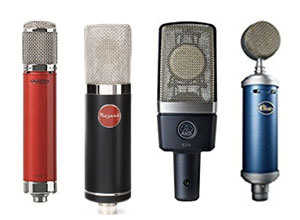 Since they are probably the most versatile microphones around, Sweetwater's list of the best large diaphragm condenser (LDC) microphone under 500 dollars is a must-read for anyone doing home recording.
LDC mics are especially useful for vocal recording. But they can be used for almost any other type of recording!
See my post Condenser vs Dynamic Microphone: What Is The Difference? for more on the different types of microphones.
Back to my reference to Sweetwater's list. they compiled a list of 9 LDC mics that they consider to be the best ones in the price range of "under $500." Here are the mics they picked:
I can't really comment on many of these because I haven't used any of them :-P. That's how many different kinds of JUST LDC mics there are out there to choose from.
I do have a lot of experience with the Rode NT2-A, which has is usually lauded as better than its little brother on the list, the NT1-A. And the NT2-A is also under $500. So I don't know what's going on there. This is my primary studio mic!
You can find out more details about each of these mics from the Sweetwater article here.