VoiceOver Jobs From Home: New Training From Home Brew Audio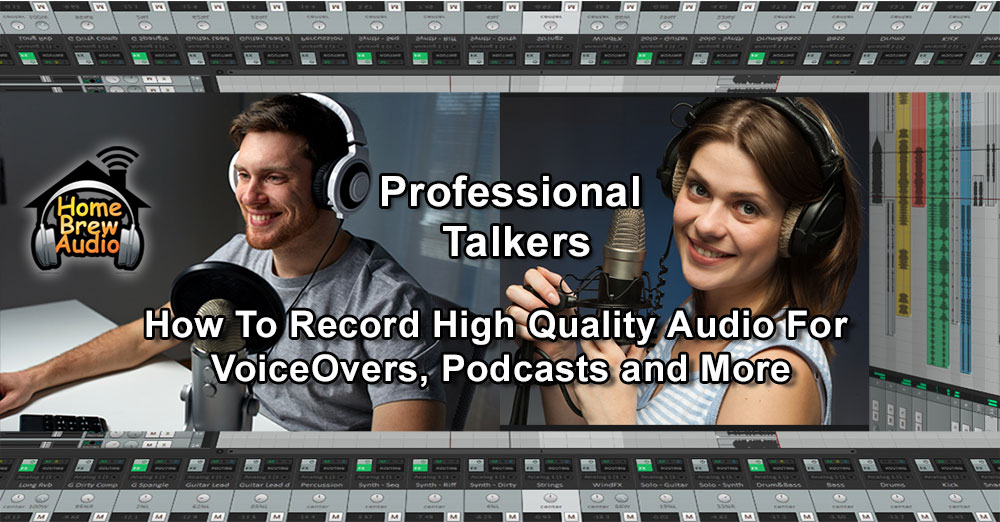 Is it possible to record professional sounding voice over jobs from home? It absolutely is. And it is easier and less expensive than most people think.
However, despite how affordable it has become to buy good quality microphones, landing and recording voice over jobs from home involves a bit more knowledge and and effort than you might expect.
I think the gap between having the gear and getting a professional sound is where most people get frustrated. "I have a decent microphone and software, and I can easily record my voice. Why doesn't it sound professional?"
A lot of people decide they need to buy more expensive gear and software. But when that doesn't immediately make the difference, the result can often be more confusion and frustration.
But here's the good news. There are things you can do to improve your audio quality with the gear you probably already have. And those things are pretty easy for anyone to understand, especially if you have the right teacher ;-). I believe I can help you there.
New Course For Recording VoiceOver Jobs From Home
We started a course in April, 2018 called Professional Talkers – How to Record High Quality Audio For VoiceOvers, Podcasts and More. I interviewed lots of people who are currently recording voice overs from home to find out what the biggest frustrations and challenges are. I was able to come up with a list of common problems people are having. Things like:
"Thin" or "muffled" sounding audio
Noisy audio (computer drives, room echo, mouth noises and other background noise)
Too much "room sound" – echo and reverb – in the audio
Difficulty getting the audio loud enough
Audio has uneven volume – it might be loud enough in places but not loud enough in others
Not fully understanding the software
Not understanding audio editing tools like EQ, compression and normalization

Need better understanding of the workflow – what to do and in what order, etc.

Myth: Thinking you MUST apply audio effects to make your voiceover sound good
Wanting to know the best kinds of microphones and interfaces, and
Not knowing about the many tips and tricks available for getting the best audio quality
Based on the problems these people were having, I put together Professional Talkers – How to Record High Quality Audio For VoiceOvers, Podcasts and More to answer those common questions directly. The course is 5 weeks long, meeting weekly and taught live. I was also available to answer students' questions both during each live session and via phone and email. In addition to that, I offered students individual one-on-one sessions to help solve a problem they might be having trying to record high quality voice over jobs from home.
Here is the current outline of the course topics:
Week 1 – Overview and First Steps
Goal of the course – You will be able to create professional quality voiceover recordings on your computer, enabling you to land and produce voiceover jobs from home. You can achieve this by learning about microphones, mic techniques and editing techniques using affordable software (a free program called Audacity, and a $60 Reaper). And you can do all of this without having to buy expensive gear or software.
Basic mechanics of recording"
The most common problem in home voice recording
Week 2 – Microphones and Accessories
Different types and Why the difference?
Room Sound & how to reduce it
Week 3 – Software and What To do With It
DAW vs Editor
Fixing mistakes
Effects – just explain what these are first and get into more detail later:
Week 4 – How To Avoid And/Or Fix Common Problems and Optimizing Audio Quality
Week 5 – Part 2 of Techniques for Optimizing Audio Quality and "Final Exam"
Continue wherever we left off above
Students record a sample script and get feedback from me, as well as the other students
That first offering of the live course in April 2018 went very well. The students said they loved it, and I also learned a lot more about what folks want and how I can best help. Here is what some of them had to say about it:
Home Brew Audio's "Professional Talkers: How To Record High Quality Audio For VoiceOvers, Podcasts and More" class was one the most practical, hands-on and effective classes in VO I have ever experienced. Much of the benefit in the class is based on Ken's personal communication style and strong VO and recording knowledge. Participation in the class strongly motivated me to learn more about the VO craft and to extend my knowledge on recording skills and equipment.
– Derek Kenner
Before this course, I had heard of concepts like compression and normalization and had I general idea of what EQ was and what it was used for. But the ability to ask questions as the tools and concepts were being explained was great! Ken knows how to break these concepts down in to easy-to-grasp pieces. Also, and maybe even more importantly, he tells you what to NOT worry about.
– Jason Arnold
A powerful benefit of this course, for any future participant, is the bite-sized chunks of concepts that Ken delivers, in a logical scope and sequence, with the built-in time to digest and apply the new learning, between the weekly virtual meetings.
– Dale Latham
When Will You Give The Course Again?
We are running the next session starting the week of April 16th, 2020. If you want more details about the course, and possibly sign up, go to the page here: