Impact Soundworks Releases Ventus Winds Duduk for Kontakt Player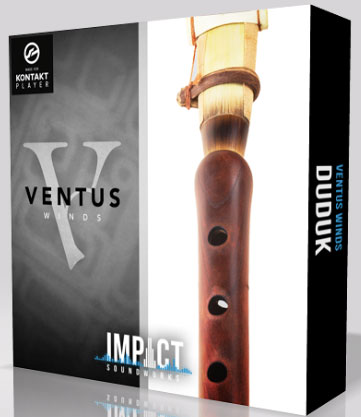 Impact Soundworks released VENTUS WINDS DUDUK, a sample library for KONTAKT PLAYER featuring the haunting sound of an Armenian double reed woodwind.
Used in countless film, TV, and game soundtracks, the mellow, mysterious tone of the duduk has been recorded with all crucial articulations, ornaments, and techniques.
With this library, composers and producers can now create realistic and authentic duduk performances in their DAW. Ventus Winds Duduk is fully NKS compatible for use with Maschine and Komplete Kontrol hardware, and is available now for $99 from Impact Soundworks.
As the sixth entry in the critically-acclaimed Ventus series of virtual instruments, this duduk offers the same core features as its predecessors: a range of multisampled playing techniques, true legato transitions, multiple types of release noises, ornament articulations, and hundreds of pre-recorded phrases. However, ISW has gone a step further and redesigned the instrument script from the ground up using the new in-house developed Agility platform.
"Our goal is always to make it easy for composers to get a great, authentic sound from our instruments," said lead developer Andrew Aversa. "We designed Agility to make that possible, even for non-western instruments like the Duduk. You don't need to be an expert to create a realistic performance!"
Through Agility, the duduk includes useful features such as a wide-screen, 4K friendly UI, a fully modular FX rack, and flexible articulation mapping & editing. It also offers improved legato playing and an innovative new approach to polyphonic legato that should make it much easier for composers to write chords and harmonies without worrying about the instrument 'guessing' notes or transitions incorrectly.
See the Ventus Duduk in action on YouTube.
Ventus Winds Duduk is now available as a digital download for $99. Owners of previous Ventus series instruments qualify for a discounted crossgrade price. Audio and video demos, specifications, and more product information is available at the Impact Soundworks website.