How To Record Acoustic Music At Home - Step-by-Step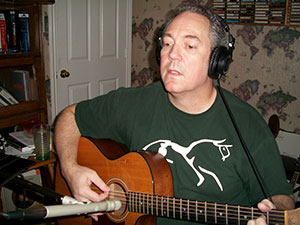 Recording acoustic guitar, along with some voices and other instruments, is one of the most common home recording activities out there. Today I thought I'd describe the techniques I use when recording this type of music. If you'd like to get an idea of how my recordings sound (pretty-much all acoustic/folk/singer-songwriter type music), you can hear a bunch of samples here: Ken Theriot's Music.
I recently finished recording a full CD of seasonal music, Ken and Lisa Theriot's The Gifts of Midwinter, and I'll be using one of the songs from that album as a sort of case-study for this article. Before we start, take a listen to the song here:
This song is close to "as basic as it gets." It's acoustic guitar, one voice singing, and a bass guitar. Here's how I recorded it:
Recording Equipment
Let's start with the microphones.  For the guitar parts, I used a Shure SM-81, which is a thin pencil-style condenser microphone.  The mic was plugged into my computer interface box, which in my case is an E-MU 1820m.  It's about 6 years old now.  You can pick up a similar audio interface like that today starting at about $75.  One example is the Focusrite Scarlett Solo, which you can get for just over $100.  Plus it comes with Ableton Live Lite music creation software.
Anyway, that got the sound into my computer. To record the sound, I used my favorite recording and mixing software, Reaper, which you can pick up for $40 as long as it doesn't make you more than $20,000 a year (honor system!).
For the voice I did the same thing as with the guitars, except there was a different microphone involved, the Rode NT2-A.
For the bass guitar, I used a "direct inject" box called the Line 6 Tone Direct similar to this one.
The Step-by-Step
First, I told Reaper to open a new project/song file and set the metronome to the correct tempo and time signature. I then turned on the click-track so everything I played would be synced to the same time.
Then as I listened to the click-track in my headphones, I played the guitar part onto the first track in Reaper. Next I started a 2nd track and played the same guitar part again. Then I panned the 1st track 100% to the right and the 2nd track 100% to the left. That gives the guitar a large stereo sound.
I opened a 3rd track and recorded one more guitar part. I put a capo on my guitar, transposed the chords, and played some different finger-style guitar in this higher register. I panned this guitar part about 20% to the right.
I then opened a 4th track and sang the vocal part, leaving it panned "dead-center" (panning - 0%).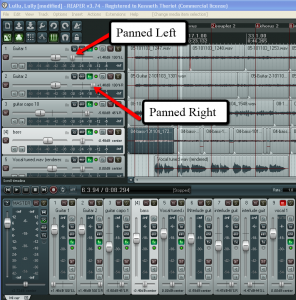 Next I opened a 5th track and recorded a bass guitar part. I plugged the bass into the Line 6 box, told Reaper to bring sound in from the Line 6 device, and simply played along. I left the bass in the center of the stereo field (panned 0%) like the vocal.
I then listened to all the tracks together, altering the volume of each track so everything could be heard properly (this is the "mixing" part).
When it sounded good, I "rendered" or "mixed down" the project, resulting in a single stereo song file.
Finally, I opened the rendered song file in my audio editing program called "Adobe Audition." I clipped off any extra space or noise from just before and just after the song, fading the end out smoothly. I made sure the overall volume as good, not too loud, not too soft, and saved it.
Finito.  Have another listen to the finished product here:
Please feel free to post any questions you may have about what I did to record this song in the comments section below.
Happy recording!
Ken