15-Dollar vs 500-Dollar Mic – Can You Tell The Difference?
UPDATE: This used to be about a $5 mic vs a $500 mic/interface setup. But even though the plastic headset mic I used to make the recording here cost me $5 10+ years ago, oddly the price of a similar headset today is about $15. Normally tech prices go down. But since USB mics are so affordable now, there is less demand for one that plugs into a built-in sound card (like I did here). So maybe that's it?
Anyway, probably the closest thing available today to what I used to record my sample below is the Logitech Stereo Headset H111.
Listen to the following two audio samples
One came from a well-meaning colleague who used a $500 microphone-and-interface set-up. This is the kind of recording setup that even the commercial studios use. His was similar to a Rode NT2-A microphone plugged into a Focusrite Scarlett 2i2 interface. It's sort of like the picture below, which I call Home Recording Setup 2 (see my mini-course, How to Create A Home Recording Studio for more on that):
The other was recorded with a $15.00 plastic computer headset microphone plugged into the built-in sound card on my desktop computer. This is very similar to what I used (note: I actually used an old Altec Lansing version of this, which at the time only cost me $5!):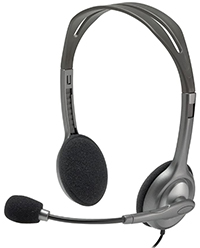 Can you tell which is which?
Okay, so neither one is "yippedy-doo-dah" fabulous, and one of them is downright bad.
Even if you can't tell, that's still a huge deal
if you can get the same sound spending $15.00 as you could spending $500.00, wouldn't you? But what if you actually think the cheap mic sounds better?
Remember – one of these was recorded with a mic that was 33 times more expensive!
The lesson here is that if you don't have the basic knowledge (and I mean pretty simple-to-learn knowledge), you can make expensive gear sound bad. And if you DO have that knowledge, you can make any gear – even the cheapest – sound good.
How Can Home Brew Audio Help?
Great sound quality is MUCH MORE about understanding a few key principles of audio, and MUCH LESS about the cost of the equipment than most people think. And here's better news: The few key principles are easy to learn…IF you have the right teacher.
That's where we come in. You'll learn all you need to know with our video tutorials, home recording articles, and tons of other resources on the site and on the HBA YouTube Channel.
There are a lot of people out there who thought home recording was the realm of tech geeks and audio engineers with lots of school and tons of expensive gear. It turns out….it's not!
In this day of ubiquitous (cool word huh?) computers, widely-available digital tech, and amazingly affordable home recording software, just about anyone who has a computer and an internet connection (or not!) can produce professional quality audio with tools you already have!
You may have to shell out $5.00 for a microphone if you don't already have one, but that is all you need to get started.
Our motto at Home Brew Audio is "Knowledge Trumps Gear." And we are here to provide that knowledge. We are not about using any specific programs, effects, microphones, etc. Our goal is to teach the basics that will apply to audio no matter what gear you use! Fun, fun, fun!
Want to get started right now?
Get instant access to the 1st few lessons of The Newbies Guide To Audio Recording Awesomeness course by clicking the banner below. These will teach you the bare basics of home audio recording. Then when you're ready, check out all our recording courses.
Free videos from "The Newbies Guide to Audio Recording Awesomeness"
These video tutorials show you step-by-step, in plain language how to record multi-track audio in Audacity AND Reaper software.
ACCESS VIDEOS NOW