Microphone For iPhone, iPad and iPod Touch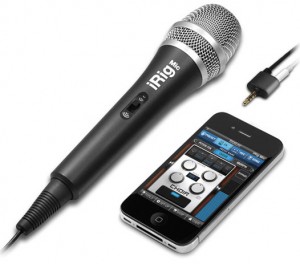 Hey home recording ninjas!  Need to do any recording whilst out and about?  How's this for the ultimate portable recording rig?  The IK Multimedia iRig Mic that plugs straight into an iPhone, iPad, or iPod Touch.
The iRig gives you excellent audio quality and comes with a vocal effects app and the recording app to use with your device.  I am reviewing one of these babies as we speak and will publish that in a few days, but early results are: "wow."  I can't say much more than that.
You can have your own portable recording studio for $54.99!  I'm actually...just...almost speechless.  This is such an incredible bit of tech.  I'll summarize.  Maybe it will sink in better.
This is a good quality microphone for $56 that plugs directly into your iPhone, iPad, or iPod Touch.  And the software (actually an "app") is free!  An entire multi track studio for $56, without your even having to have a computer!  What?!
Check back on Tuesday, June 21st for my complete review of this little baby. I did the review, complete with audio examples, here: https://www.homebrewaudio.com/review-of-ik-multimedias-irig-microphone-for-iphone-ipad-and-ipod-touch/
Find out more and get your own iRig here: The IK Multimedia iRig Mic.
Enjoy!
Ken