Complete Music Recording Studio for Under $600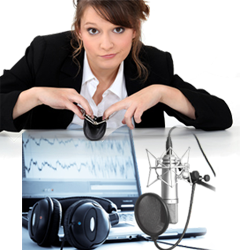 Here is my suggestion for the best way to put a music recording studio together for $600.  Someone whose been using his brother's home studio found out Bro was moving out and taking his gear with him.  He had a budget of $600 and planned to mainly record acoustic, electric and bass guitars, and various virtual instruments like piano and other synths.  This means he needed a decent mic and interface for the acoustic guitar and vocals, multitrack and editing audio software with midi capability.  Here is how I answered his question:
Hi Dave,
This is a great time to have to build you own set-up.  I'm guessing that if your brother's studio cost him thousands upon thousands of clams, he started building that up at least 7-10 years ago, am I right?  Things are quite a bit more affordable now.
If you have a budget of 600 dollars, my recommendation would be this:
– Mic – Audio Technica AT 2035 – $149
– Interface – Focusrite Scarlett 2i2 – $149.99
– Software – Ableton Live Lite 8 Software – $0 since it comes bundled with the Scarlett.  I would also throw in Reaper here, which you can also use for free as long as you're evaluating it.  Then you can buy it for $60 until you start making $20K per year with it.
– Guitar/Bass Interface – Line 6 POD Studio UX2 USB Computer Recording Interface: $195
For $494 you have a pro setup that will RAWK.
Later you'll want to add more and different mics, more virtual instruments and effects, etc.  And you'll want to get some decent monitors as soon as the budget allows.  But for now, kickin' studio for under $600.00.
Hope that helps!
Cheers,
Ken Theriot