Setting Up a Home Audio Recording Studio|Start Using Yours in The Next Hour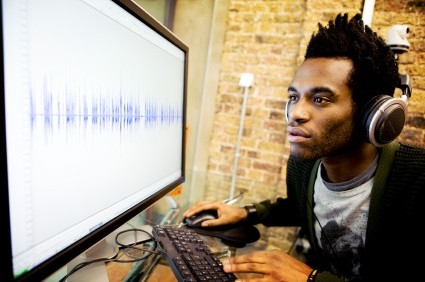 If you are interested in setting up a home audio recording studio, we have several tutorials to get you up and running fast.
The very quickest way to get started (though you'll want to upgrade soon for improved quality) is to use stuff you probably already have!
All you really need is a computer, any kind of microphone that you can attach to your computer, and some software. I highly recommend the FREE software program called Audacity to start with.
How to create a home studio
I recommend starting with my mini-course called "How to Create a Home Recording Studio." Those two videos will show you how to set up a studio for any budget.
After you have your gear, you'll want to know how to actually make and edit recordings. That is where the next course comes in.
The Newbies Guide To Audio Recording Awesomeness is our 1st video-tutorial course, and will show you how to start a home studio in less than an hour and have you producing professional sounding audio from it. The cost for the studio? How about $5.00 to start (for a PC mic if you don't already have one)?
Once you're ready to crank it up a notch or three, the 2nd in our Audio Recording Awesomeness series awaits - The Newbies Guide To Audio Recording Awesomeness 2: Pro Recording With Reaper.
That course moves into the professional realm of audio recording using the incredible software, Reaper, and delving into move advanced topics like MIDI and virtual instruments, loops, and several time-saving voice-over production techniques like quickly slicing one file into many, saving each with it's own file name, and rapidly creating multi-character dialogue projects.
Get some free videos from both courses by clicking in the banner below.
Free videos from "The Newbies Guide to Audio Recording Awesomeness"
These video tutorials show you step-by-step, in plain language how to record multi-track audio in Audacity AND Reaper software.
ACCESS VIDEOS NOW