Home Recording Studio Tips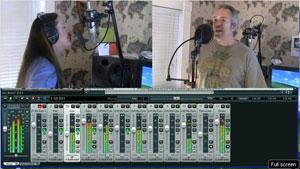 We want to be your home recording studio headquarters.
I started Home Brew Audio to be a one-stop shop for learning how to record and produce professional audio on your home computer. That includes just about any kind of audio recording – from voiceovers, audiobooks, podcasts and video narrations to music.
And I want everyone to understand that they can do this without having to pay lots of money or attend a recording school.
It's not as hard as you think
Also, one of my main goals is to make audio recording easy to understand. For EVERYONE. The audio recording world is filled with hard-t0-understand language and jargon. And in most cases, the concepts BEHIND all that technical lingo are pretty easy to understand. but they are explained in a way that makes it SEEM hard.
It's not as expensive as you think
The truth is that in this day and age it's cheaper and easier than you probably ever imagined.
Find out all you need to know about recording music (like your own demos, CDs) or voice overs (audio books, podcasts, video narration, etc.) or any other kind of audio you can think of, right here in the pages and posts of Home Brew Audio.
We have hundreds of articles available for you to peruse for free. Just click the "blog" link at the top of the page.
Courses on what to buy and how to use it
In addition, I have video tutorial courses available. Start with my mini-course, How To Create A Home Recording Studio, which shows you what to buy (and why) for 4 different budget levels.
Newbies Guide to Audio Recording Awesomeness video tutorial course ($39), which starts you at a budget of $0 (yep, that's ZERO dollars) for recording gear. When you're done with that, move on to The Newbies Guide to Audio Recording Awesomeness 2: Pro Recording With Reaper for $49. Or buy them both together for $69 here.
If you're not sure you're ready to buy anything just yet, you can get the first several videos in The Newbies Guide course free of charge. See the banner at the bottom of this post for more on that. You'll get the first several videos from both modules (Audacity and Reaper software). Plus you'll get all the latest information we think will be valuable to you in your recording efforts (no filling up your email inbox, in other words:)).
See you around campus!
Cheers,
Ken Theriot