The New iOS Music Release From IK Multimedia - iRig MIDI and SampleTank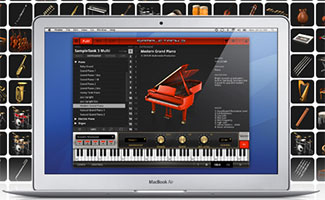 I'll be doing the review on this next week (completed - see the review here: Review of iRig MIDI by IK Multimedia, but for now, here is the official announcement from IK Multimedia on the release of their new iRig MIDI and SampleTank. These iOS music releases are giving us lots of ideas for home recording studio tips.
The iRig MIDI is a physical device that you can use to hook up a MIDI keyboard to your iPhone, iPad, and iPod Touch.  This will, of course mean nothing unless you have something MIDI-controllable on your iOS device.  Fortunately IK MM has also just released SampleTank of iOS, which, if it is anything like the software version of SampleTank, is filled with awesome sampled/virtual instruments.
The free SampleTank app for iOS is available from the Apple app store here.
Get all the details about SampleTank for iOS here.
If you're interested in the full version of SampleTank for your desktop, go here SampleTank 2.5 XL.