IK Multimedia Just Released the iRig MIX Mobile DJ Mixer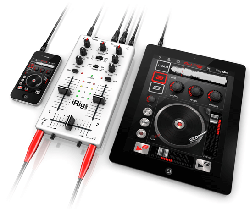 IK Multimedia, maker of many excellent audio products but most recently some fabulous iOS apps, have just announced that they have released not one but several new mobile music apps for iPhone, iPad, and iPod touch (I'll just abbreviate that lat bit by saying "iOS" from here on out).  One of these latest releases is called the iRig MIX.  It is essentially a professional DJ mixer that you can stick in your pocket (if you have to).  AS with many of the IK iOS products, this one combines a piece of hardware with an app that you can download - usually for free - sometimes with an option to upgrade to a paid version.
In this case the hardware part is a very small but powerful 2-channel mixer with crossfade, cue, EQ, panning and volume controls.  You can use it with iOS apps for DJ mixing or with several other apps.  It can also be used to mix ANY type of audio source, meaning mp3 players, CD player outputs, etc. with an iOS device and use the beat-syncing and tempo-matching capabilities.
It comes with 4 free apps that you can get from the iTunes app store: the DJ Rig mixing app, Amplitube (which I reviewed here: iRig Amplitube Review), VocalLive singer processing app, and GrooveMaker loop/groove/beat making app.  So this thing is not just for DJs!
Get more information here: www.irigmix.com
Cheers!